Top 4 Saddle Hunting Kits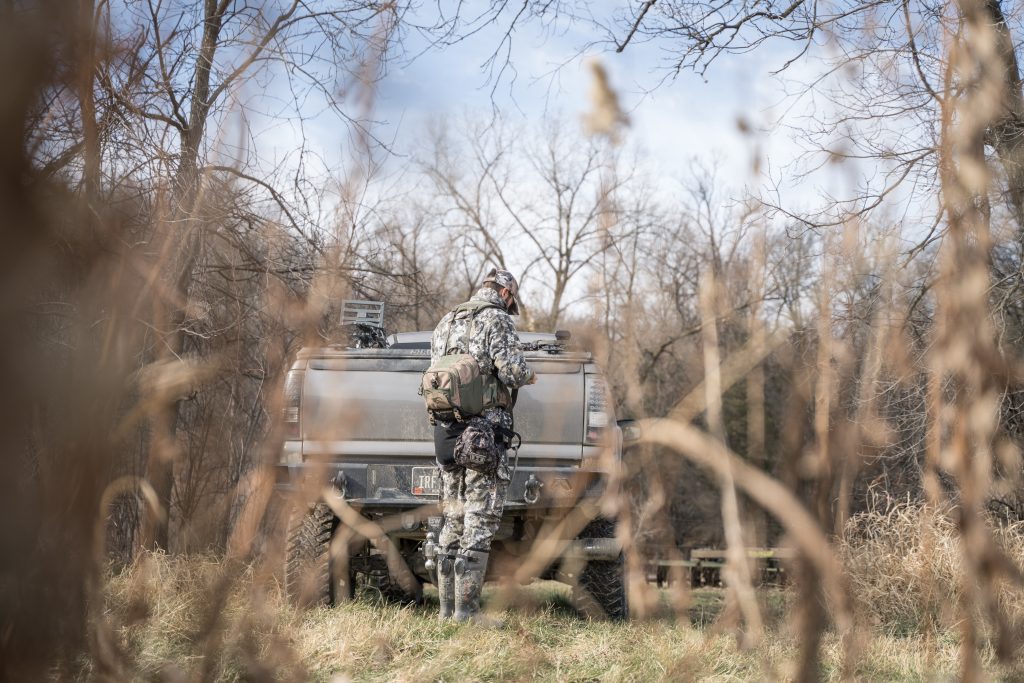 For many hunters, their season is a constant chase that involves watching the weather, food, moon phase, rut, and pressure from other hunters.
Whether your spot is on public or private ground, so many factors can influence deer movement.
You can use trail cameras to see where the deer are when you can't be there, optics to scout from a distance, and good old-fashioned skills of reading trails, scrapes, and rubs.
Correlating this data, you can formulate your plan of attack and predict where that target of yours is going to be and when.
So, when you look at consistently successful hunters, they usually tell you the secret to their success is flexibility and mobility.
Although deer are creatures of habit, they don't always follow the same script. Tree stand hunters have understood the importance of moving with the deer.
In recent years, there has been a flood of ultralight, super mobile tree saddle setups in archery shops and social media feeds from Beau Martonik of East Meets West Hunt to Janis Putelis of Hunt to Eat and MeatEater fame.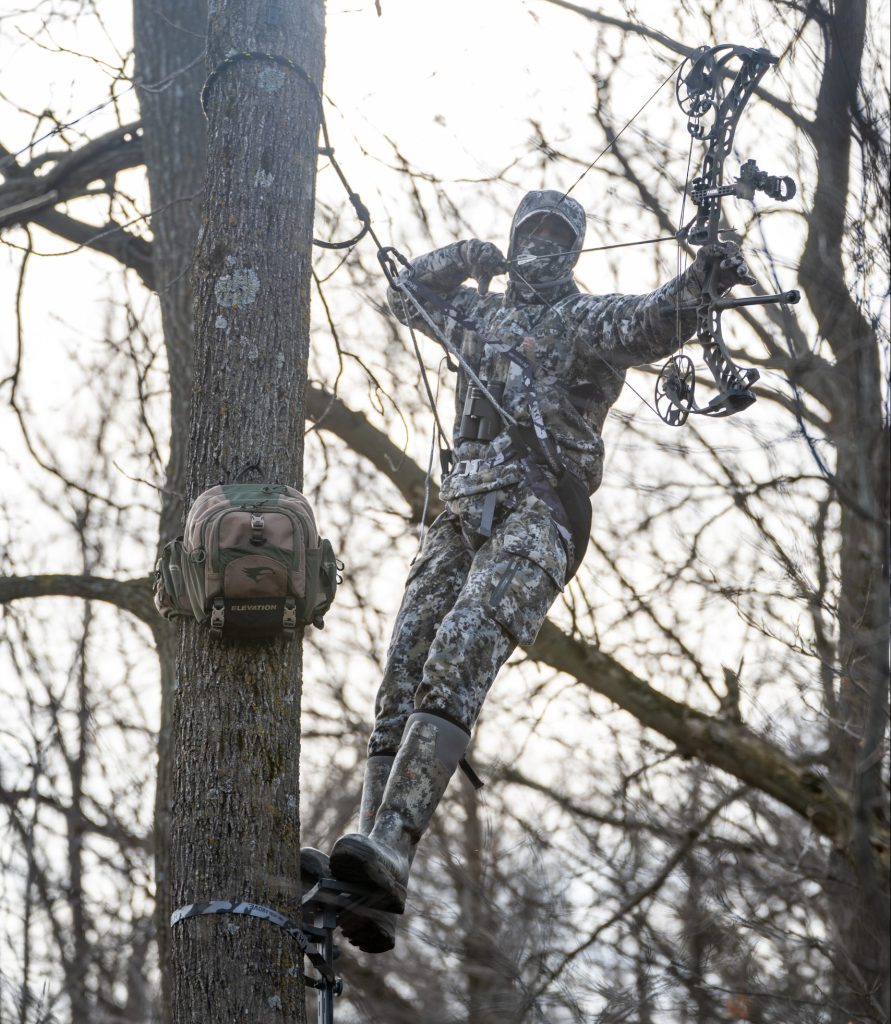 What is Saddle Hunting?
Simply put, saddle hunting is a mobile form of hunting in which the hunter uses a tree saddle, lineman's rope, tree tether, saddle hunting platform, and climbing sticks to hunt from an elevated position.
A tree saddle is, in its basic form, a harness that secures you to a tree with a hammock-style seat (saddle) for you to sit.
Surprisingly tree saddle set-ups for hunting aren't necessarily a new invention, they've been around since the 1980s, but were overshadowed when traditional tree stands designs became lighter and more conducive to longer hikes farther into the woods, and multiple stand moves.
If you're considering adding a hunting saddle to your bowhunting setup — here are the 4 best saddle hunting companies and their best saddle hunting kits.
Tethrd
Promoting their products "for saddle hunters, by saddle hunters" Tethrd hunting saddles understand they are reaching out to a growing niche group of hunters.
Interested in bringing the best product to the market and trying to redefine saddle hunting by designing and marketing their signature series of saddles and platforms.
Their plan is working as they are one of the top companies in the saddle hunting space today.
Every year more hunters are trying out their products and consuming their content which includes their own podcast, Tethrd Podcast.
Tethrd also offers a traveling tour of educational events about their products and saddle hunting despite whether you buy their products or not.
If you're looking for a company celebrating saddle hunting, this is one of the best places to start!
Best Thetrd Saddle and Kits: 
Build Your Custom Saddle Hunting Kit
Latitude Outdoors
Born out of founder Kevin Leach's desire to hunt swamp bucks in the northern reaches of Michigan, Latitude Outdoors was founded to bring saddle hunting products to hunters who wanted to get into places traditional tree stands would be difficult and cumbersome.
Leach, an engineer by trade, enlisted the help of a fellow engineer to bring their education and background from manufacturing to their passion of bowhunting to produce some of the best saddle hunting products today.
Also doubling as a seller of saddle hunting products, they also have extensive education on their website regarding how to use their products and get the most out of your saddle hunting experience.
Offering their balance of "compact and comfortable" Latitude has the goods from two engineers who have put more than the standard amount of thought into their products.
Best Latitude Outdoors Saddle and Kits:

Hawk
For those in search of the Mack truck of hunting stands and saddles, Hawk might just be the company for you.
Producing tree stands, box blinds, and ground blinds they have brought their knowledge and safety designs to the saddle hunting space.
Their highly rated Helium Hammock Saddle kit gets you started with a kit that weighs under 4lbs.
Pairing this kit with their years of experience with their climbing sticks and it's a company that you know is in the game for the hunters they cater to.
Best Helium Hammock Saddle:
Trophyline
"Hang with the best" is what Trophyline wants you to do with their brand of tree saddles and accessories.
Part manufacturer, and part educator like other companies, Trophyline is working hard to create a community of hunters using their products.
Their "Trailblazer" rewards program lets you earn points for product discounts for everything from buying their products, sharing social media posts, and even celebrating your birthday.
Their "Tech Tips" education section is second to none and leaves you feeling like you now have a technical degree in tree saddles.
Learn about knots, ascenders, and saddle adjustments all from their website.
Paired with a variety of blog posts, Trophyline is certainly worth considering.
Best Trophyline Saddle Kits: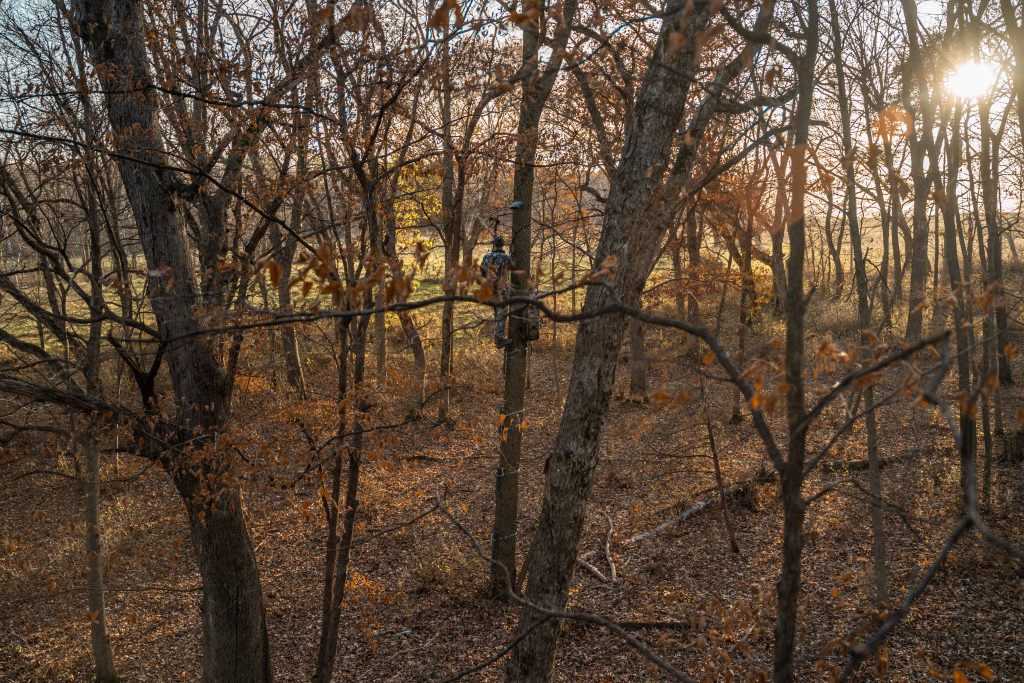 Best Saddle Hunting Kits Recap
Each year, more hunters are getting into saddle hunting or tossing around the idea of getting into saddle hunting.
There never seems to be a bad time of the year to start learning about these saddle hunting companies and which setup will be right for you.
Fortunately, over the past few years, there has been a ton of education that these companies are offering as saddle hunting is fairly new on this large of a scale.
Like tree stands, you'll want to be familiar with your equipment so you can hunt safely and successfully.
If you choose one of the various tree hunting saddle kits from Thetrd, Latitude Outdoors, Hawk, or Trophyline — you'll surely find a hunting saddle kit that's right for you.
Also, if you're in the market for a saddle hunting backpack – check out our friends over at Elevation who make some of the best saddle hunting backpacks available!
For more information on archery and bowhunting, be sure to check out our full blog archive.
Also, make sure to connect with us on Facebook, Instagram, and YouTube to stay updated on the latest product information, new product announcements, sales, promotions, as well as contests, and giveaways!